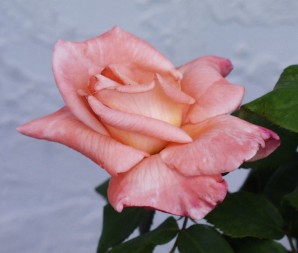 I am a novice at jam making. What that actually means is that I have made jam twice. It was a very good
rhubarb and cinnamon jam
which I can't recommend highly enough as it's so damned easy and everyone thinks you are Delia Smith (or Martha Stewart, depending on which side of the pond you reside)... I can't be faffed with muslin bags, or pectin, or testing for setting temperatures. Wack it in a pot and cook until mushy.
I have since found a recipe for
rose petal jam
which looks equally easy and sounds suitably exotic to create similar coos to the rhubarb spectacular.
The only problem is that I love roses.
When our block of flats was built in its post-war frenzy, someone planted
alot
of rose bushes throughout the estate. We have at least four different varieties in our garden alone. The photo I took last night has mysteriously disappeared from my computer, so this one is filched from the web, but the ones in our garden must be the fourth or fifth blooming this summer.
So what's the problem? I just can't bring myself to cut the heads off in full bloom and pull the petals to shreds. I can't. I can cut them off, bring them inside and throw them in (ie place them artfully so it looks thrown in) an old jug. I can leave them to wither and die of their own free will.
But I can't destroy their astonishingly plump heads, so full of scent and decadence to wack in a pot and cook until mushy...
What do you think?
Would the rose approve of its sacrifice for the greater good?